I was so happy when I saw that the #whatsonyourbookshelfchallenge link up was back for 2022. My fingers were crossed that it would be back as I've come to really look forward to it. I love reading the bookish posts that are linked up, and say a big thank you to Sue, Jo, Deb and Donna for providing this opportunity.
Recently, I posted here  about the The 52 Book Club Challenge that I'm participating in this year. The 52 Book Club is an annual challenge to read 52 books in 52 weeks. The challenge is composed of prompts which are used to choose the book each week. I've had great fun over the past few weeks, choosing my books for the year and matching them with the prompts.
The challenge for me, isn't reading 52 books in the year. In 2021, I read 88 books, so I'm not concerned about the number. The challenge for me is the prompts. Also I've set myself the challenge of choosing as many books as possible for the prompts, from my bookshelf. Two out of four books for January were on my bookshelf. It will be a great relief to read these unread books, as I've been promising myself to clear my bookshelf of unread books, but never seem get around to it. There are just too many new releases that must be read. I've included a few new releases in the challenges, which I received as Christmas presents.
I'm mainly reading the challenge books in order from #1, but I know I'll get sidetracked along the way. Not that it matters. There is much discussion on the challenge Facebook page about the order of reading, and I've noticed that most people are jumping around all over the place, and not reading in order. That way of doing it triggers my need to be organised and following a list in order, so I'll just work my way down the list, in order. Unless, along the way, I decide not to do it that way.
I'm ahead with reading the book challenge books, so will be able to post the books for the month a bit earlier, than the end of the month, to fit in with the date for #whatsonmybookshelf
52 Book Club Challenge Books for January 
Prompt #1: A Second Person Narrative. #audiobook
Into The Water: I struggled to choose a book for this prompt. Goodreads has a list of second person narrative books, but I was trying to make my own choices without using the Goodreads list. Eventually I gave in and chose this book written by Paula Hawkins, as I'd just read one of her books and enjoyed it. From all that I've read about second narrative, it seems that it's a more difficult style of writing. The writer address the reader directly, implying that the reader is the protagonist or a character in a story, and the events are happening to them. I thought I understood this quite well, but as I listened to Into The Water it really didn't seem like second narrative to me. Each chapter was told from the perspective from one of the main characters. One of the participants on the Challenge Facebook page told me that the character of Julia was second narrative. I have to admit, that I hadn't noticed.  I really should have read this book, instead of listening to the audio book, as I was constantly wanting to flick back the pages. I think this really affected my enjoyment of the book.  One day I might read the actual book. It would be interested to know if there is a difference in my enjoyment.
The story starts when a single mother turns up dead at the bottom of the river that runs through town. Earlier in the summer, a vulnerable teenage girl met the same fate. They are not the first women lost to these dark waters, but their deaths disturb the river and its history, dredging up secrets long submerged.
Prompt #2: Featuring A Library Or Bookstore
The Time Traveler's Wife: I read this book when it was first published in 2013 and loved it. It's been sitting on my bookshelf ever since, waiting for me to re-read it. As soon as I saw this prompt I knew that this book was perfect. On re-reading, I found the book to be just as enjoyable as the first time.
"A funny, often poignant tale of boy meets girl with a twist: what if one of them couldn't stop slipping in and out of time? Highly original and imaginative, this debut novel raises questions about life, love, and the effects of time on relationships". – Goodreads.
The Time Traveler's Wife seems to be quite divisive. Readers on Goodreads, rate it from between 1 star and 5 stars. There's not much that is believable about this book at all, but that's what I love about it. These days there is a slight 'ickiness' about the storyline, but you will have to read it to find out. I don't want to give anything away.
Prompt #3: Title Starting With The Letter 'E' 
Everest 1953 – The Epic Story Of The First Ascent: Mt. Everest really interests me, even though I really can't say why. Perhaps it's just that it seems like the ultimate challenge of what the human body can survive. This book is about the attempt to be the first team to reach the summit in 1953, with all it's trials and failures. In 1953, getting to the top of Mount Everest was a challenge that many were hoping to conquer. There were many serious climbers who wanted to be first on the summit. This book is about the British Expedition, which included New Zealander Edmund Hilary and sherpa Tensing Norgay. The political issues are covered along with intrigue, jealousies and much more. I found it fascinating.
Prompt #4: Starts With The Letter F

The Flower Girls: I wandered into the library, with the purpose of finding a book starting with the letter F, as surprisingly, there wasnt one on my bookshelf. I couldn't believe it when, as I walked past the central display, the Flower Girls seemed to jump out at me.  That was good enough for me, so I grabbed it, not knowing anything about the story, which is my preferred way of starting a book. It was an excellent choice, a fast past  thriller, with a great story line.
Laurel and Primrose are the flower girls. One is accused of murder and spends years in prison. The other is given a new identity. Now, many years later after another dreadful crime, the Flower Girls are about to hit the headlines again.
Other Books Read in January
Our Souls  at Night by Kent Haruf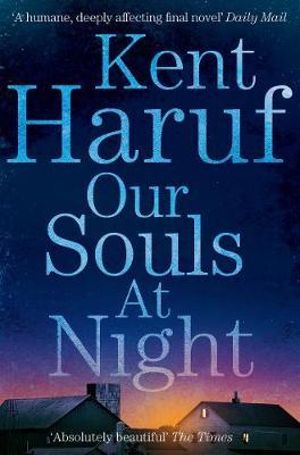 This beautifuly, tiny book is a re-read. I read it a few years ago for book club but when a friend mentioned it, recently, I had a mental blank about it, so couldn't resist re-reading it. Our Souls At Night is the story of an elderly couple who are neighbours and live alone. The female suggests to her neighbour, who she doesn't know well, that it might be a good idea for him to go to her house each night and sleep in her bed with her. There was nothing at all sexual about her suggestion. Since her husband died, she was lonely for company, and felt the need to have a body in the bed with her, and to have someone to talk to. The story goes from there as their adventure together continues. ⭐️⭐️⭐️⭐️
Showtime by Judy Nunn
Firstly I love the cover of this book. Judy Nunn's latest release is my favourite genre of historical fiction, and as it says on the cover, is  a tale of comedy, tragedy, passion, betrayal……on stage and off. The story starts in the cotton mills of England, before moving on to the theatres of Melbourne and Sydney, in the golden days of show business. I loved this story of the early days of Melbourne,when it was a boom town and people were arriving there from all over the world. The story of two fictional families is woven in with actual events that happened at the time, with many actual people appearing in the story. As is usual with Judy Nunn's novels, this book is very well researched. I felt it gave a great glimpse into the world of Melbourne and show business in the 19th century. ⭐️⭐️⭐️⭐️💫
Where The River Bends by Jane and Jimmy Barnes
I probably should say right from the start, that I've been a huge Jimmy Barnes fan for years, so perhaps anything I write is biased. This book was a Christmas present and is such a beautiful hard cover book to hold in your hands. It's probably weird to have a recipe book listed as a book read, but there is more to read than just recipes. Most of it is written by Jane, with snippets from Jimmy, many of them very funny. But again, there's my bias! The photos are some of the best I've seen in a recipe book. The food photos look real and ready to eat, not artificially stylised. There are also beautiful natural photos of their family taken around their house and in the garden. . My only criticism is that the photos don't have captions, so I had to guess who they were. Over the years I feel that I've come to know the Barnes family, so I would love to have known which grandchild belonged to which child. I'm looking forward to cooking from this book, as the recipes mostly don't look at all difficult. There is a chapter of potato recipes that look amazing and so yum. ⭐️⭐️⭐️⭐️⭐️
The Wreck by Meg Keneally  #audiobook 
Meg Keneally is the daughter of Australian literature icon Thomas Keneally, and like her Dad, writes a fabulous Australian historical novel. I'm a fan of both her and historical fiction so there was no way that I wasn't going to enjoy this book. The Wreck is the story of Sarah, living in London in 1819 and who would do anything for a better life. Eventually Sarah finds herself in Australia, after being the only survivor of a shipwreck. Taking on a new identity Sarah starts to think that she may have found her new place in life……until her past catches up with her.
⭐️⭐️⭐️⭐️
Bittersweet by Colleen McCullough #audiobook 
Another historical fiction, but this time the theme is the bond between four sisters, and the lengths they would go to, for each other. The sister lived very pampered lives, until they decided to go into nursing. At the time, the life of a nurse was very austere, and very different to the lives they were living in their home town in NSW.  Bittersweet is set just as the depression is beginning. We follow the lives of the four sisters through the depression and into life after their nursing training is over. ⭐️⭐️⭐️⭐️
This post is linked to the monthly #whatsonyourbookshelfchallenge linkup hosted by bloggers Deb,Sue, Donna, and Jo. Click on the previous links to check out what they've been reading.
What have you been reading or #whatsonyourbookshelf for your next read. I'd love to hear and promise to reply to all comments.
©2022 copyright. All rights reserved nextphaseinfitness.com.au