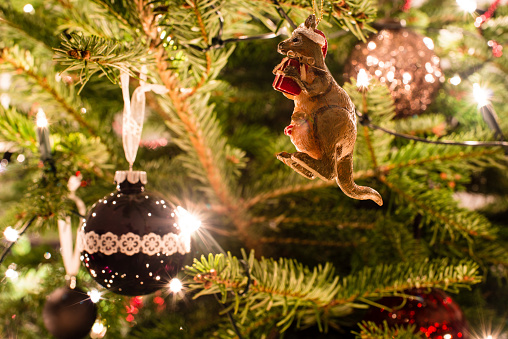 Big thanks to bloggers, Jo  Donna, Sue and Deb for hosting a special one-off seasonal link-up called Festive Bonbons. I couldn't resist joining them in posting about my experience of Christmas over the years. Christmas today is very quiet here as we usually have our family catch ups on the weekend before Christmas. I love having all the responsibilities done early, as we can then have a relaxing Christmas Day at home. Christmas is usually just one day off due to seven day trading.
Christmas Tree
As much as I love Christmas trees, I don't bother to have one any more. When we had children at home, the tree would always go up on 1st December and be taken down on New Years Eve. I was very superstitious about that as I read somewhere that to leave the tree up after January 1 was bad luck. I do love to check out the City of Bendigo Christmas Tree.
Christmas Carols
I love traditional Christmas Carols as well as a few favourite Christmas songs, such as Wham's Last Christmas. I'm old enough to remember when the Salvation Army came to housing estates to sing carols in the street. When I was in London the Salvation Army could be seen singing carols in most train stations. I loved to stand and listen. I have a Christmas play list,that I usually change around a bit and add to each year.  On the weekend before Christmas, while travelling to family for an early Christmas, it's Christmas Carols in the car, for the three hour drive. The playlist is made up of my favourites as well as his. You would probably think some of his are a bit weird such as Snoopy's Christmas.
Christmas Books

This year I've been reading Christmas books in December. Usually, the only Christmas book that I read is Charles Dicken's Christmas Carol. I love it and read it every December. I haven't read it yet this year, but plan to start in a couple of days. I bought my copy in the U.S many years ago and it's very very well read and looks a little tattered. So far I've read four Christmas books and my highlight has been A Highland Christmas. This book is set in the Highlands of Scotland, where I have family history which made me  interested to read this story.
Christmas Movies
Love Actually – I watch it every Christmas and never get bored with it.
Lampoon's Christmas Vacation – Also watch this every Christmas. There's many memories of watching it with my children and laughing all the way to the end.
Home Alone – I don't bother watching this one these days. I saw it enough when my children were young. It was a favourite.
Christmas Cake, Chocolate, Nuts or Fruit. 
I don't do Christmas Cake any more. We really don't need it in our diet, and I never loved it anyway. I don't eat nuts, but it's a definite yes to chocolate and fruit. I really love fruit at Christmas. Firstly there are the amazing cherries which we buy direct from the grower. We have a cherry tree that produces a huge  amount of cherries, but usually not until the new year.  My home town Shepparton, is the stone fruit area of Victoria, so fresh fruit has always been in abundance for me. During the week before Christmas, we will make the trip there and stock up on apricots, peaches and strawberries direct from the orchard and Strawberry farm. I'm salivating at the thought, as this fruit is nothing like the fruit available in supermarkets.
Christmas Traditions
When I had young children, I loved Christmas and it's traditions. I probably went overboard on everything but I loved it. Christmas was my favourite time of the year. Not so much these days. Christmas these days is very quiet. We usually have family catch ups before Christmas and spend a quiet day at home on Christmas Day. I find Christmas quite triggering, but I've learnt how to handle it over the years, without being a sad sack.  I'm able to make the best of it now, and even enjoy it. I usually prefer to work over Christmas, as it keeps my mind occupied. I'd rather work, so that at least one person with young children can spend the day with their children. It makes sense to me to do this, but it does make for a short one day Christmas.
What's On The Table
Even though there are only the two of us on Christmas Day, we  have always had a traditional Christmas lunch, with all the trimmings. However this year, for something different, we are looking forward to going out for a beautiful traditional Christmas Day lunch with friends.
Christmas Memories
Even though Christmas now has a different meaning to me, than it had in my younger years, there is still much that I love about this special time of the year.   Of course, as a child, Christmas was a very exciting time. I only have a few memories of Christmas during my childhood but they are great memories. However my best memories of Christmas are Christmas with my children. We always made Christmas a very, very special time, and went over board with all the Christmas traditions. I do miss this time in my life,  but I have lovely memories from the past, to look back on.
My first bike: The first Christmas I remember, was when I was almost three years old. That year I received what I thought was a huge bicycle. I have vivid memories of being very excited, and riding that three wheeled tricycle up and down our hallway, early on Christmas morning. I was sure I would be in trouble for riding the bike inside, but I didn't care. I had this really big, shiny, blue bike and I was able to ride it. Of course, needless to say, I didn't get into trouble.
Swimming at Christmas:  The weather has now changed, and the hot weather seems to come after Christmas these days. When I was child, Christmas Day was always hot. We would get new bathers from Santa and after lunch was over, Dad would pile us kids, and any others from our street who wanted to come, into the back of the ute, and off to the pool we'd go. They were different times for sure! Piling into the back of the ute wasn't an issue in those days. I would love to have a photo of us all.
Christmas as a mum: With three children, Christmas was always fast and furious, with lots of excitement, and never a dull moment. I loved it! I loved the shopping, the gift wrapping, the secrecy, and most of all I loved seeing those happy faces on Christmas day. With three children, growing very quickly, there was often a bike under the tree. That bike could be brand new or sometimes it was a hand me down from an older sibling, that had been repainted and refurbished to look brand new. Either way, there was always excitement plus, when a shiny new bike was spied under the tree.
 White Christmas in Canada: A white Christmas in Canada was an amazing experience. We spent a few days at the Banff, in the Rocky Mountains, staying at the iconic Banff Springs Hotel. There were various Christmas activities every day over Christmas. Such things as story time by the fire with Santa, ice skating with Santa, Sledding with Santa, and heaps more that I can't remember now. By then, the children were adults, but I couldn't help thinking how much they would have loved being there. There were so many highlights of that trip. For a couple of Australians, it was jaw dropping to arrive at Banff a couple of days before Christmas while the snow was falling. We made the most of the white Christmas and went show shoeing every day, which I absolutely loved. I wasn't a skier, and this was the next best thing.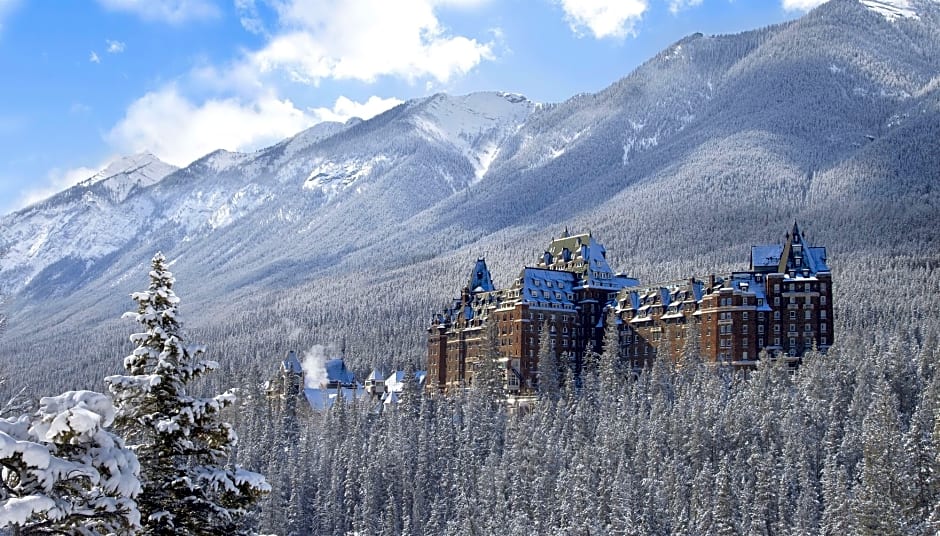 Christmas in England: Our daughter spent a few years living and working in London. One year, we made a last minute decision to surprise her with a Christmas visit. We were there for the two weeks before Christmas and it seemed that we did everything that was possible to do in the holiday season. . I remember the day we were sitting in a coffee shop in central London, when surprisingly, about 20 Santas came skating down the middle of the street. Ice skating at Somerset House in London was a highlight. I wasn't skating, of course! However, I had a great time watching my daughter and her friends, followed by mulled wine, mince pies and hot chocolate, ringside. Marques surrounded the skating rink on three sides, giving a cosy atmosphere and a great view.
White Christmas in Australia: One year when our children were  teenagers, we decided to spend Christmas in the mountains, at Falls Creek.  To our surprise when we arrived, late in the afternoon on Christmas Day, snow started to fall. It was light snow, but it was snow. Being summer in Australia, it was unimaginable and unseasonable for snow to fall in December. I'll never forget that magical sight of watching the snow falling. The kids couldn't believe it. For that reason alone it was a great decision, to head to the mountains for Christmas. The snow very quickly cleared the next day, and we spent a memorable few days mountain bike riding, bush walking, reading and relaxing in the cool mountain air.

All I want for Christmas is…
My biggest Christmas wish would be to see my son and my grandsons, Jake, Lucas and Hudson. Lucas was born on Christmas Day, so it's an extra special time.  It won't be possible to see them at Christmas, but I'm holding out hope that it can happen early in the new year. I do hope that life gets back to normal next year, and I can create a new Christmas tradition of having Christmas in Queensland with my family, in the week before Christmas Day.
If I could have a second Christmas wish, it would be for good health for everyone, and an end to the pandemic.
This post is linked to Denyse's Life This Week
bendigoadvertiser.com
visitlondon.com
fairmont.com
©2021 copyright. All rights reserved nextphaseinfitness.com.au