The O'Keefe Challenge 
The O'Keefe Challenge is a weekend of running, walking and cycling events held on the O'Keefe Rail Trail between Bendigo and Heathcote. The O'Keefe is an inclusive community event, where people of all ages and fitness levels are welcome. Community members are encouraged to be participate or be involved in other ways. The events finish at Barrack Reserve in Heathcote, close to all that Heathcote has to offer. Events for school children will be held at the finish line. In 2021, these events were very popular and caused much excitement.
From The O'Keefe Challenge website: "The O'Keefe Challenge is more than just a race, fun run or bike ride – it celebrates fitness, nature and the community spirit of the Heathcote and Bendigo region."
Dementia Village
A group of dedicated volunteers from the Heathcote community are working towards making a difference to the lives of people who are living with dementia. They are committed to raising
sufficient funds to establish Gilbruk Place, a safe and secure environment for dementia patients. Funds raised by The O'Keefe Challenge will support the establishment of this world-class village in Heathcote,  which will be a benchmark for communities across Australia. The 5km Run/Walk event focuses on this project and participants are presented with a specially dementia-themed finisher's medal.
Events
Run
Mandalay Resources O'Keefe Marathon 42.2km
Fosterville Gold MineHalf Marathon 21.1km
5km Walk Run Against Dementia
Heathcote Lions Kids Race
500m Kids Dash
Relay
Full Ekiden Relay
The Ekiden Relays allows a competitor to participate in a marathon, but they are able to do it as part of a relay team. Teams are made up of seven runners.
who choose their preferred distance between 2.7km and 9.3km. This event is run between Bendigo and Heathcote.
Mini Eki Relay 21.1km
This event is a new addition this year. There are six competitors in each team, who run between 2.7km and 4.5km between Knowsley and Heathcote.
The Ekiden has a number of categories: Male – Female – Mixed ( minimum of 3 females) – Secondary School Students – All Abilities ( minimum of 1
person with a disability – Family (minimun of 3 people from one family)
Ekiden Relay Legs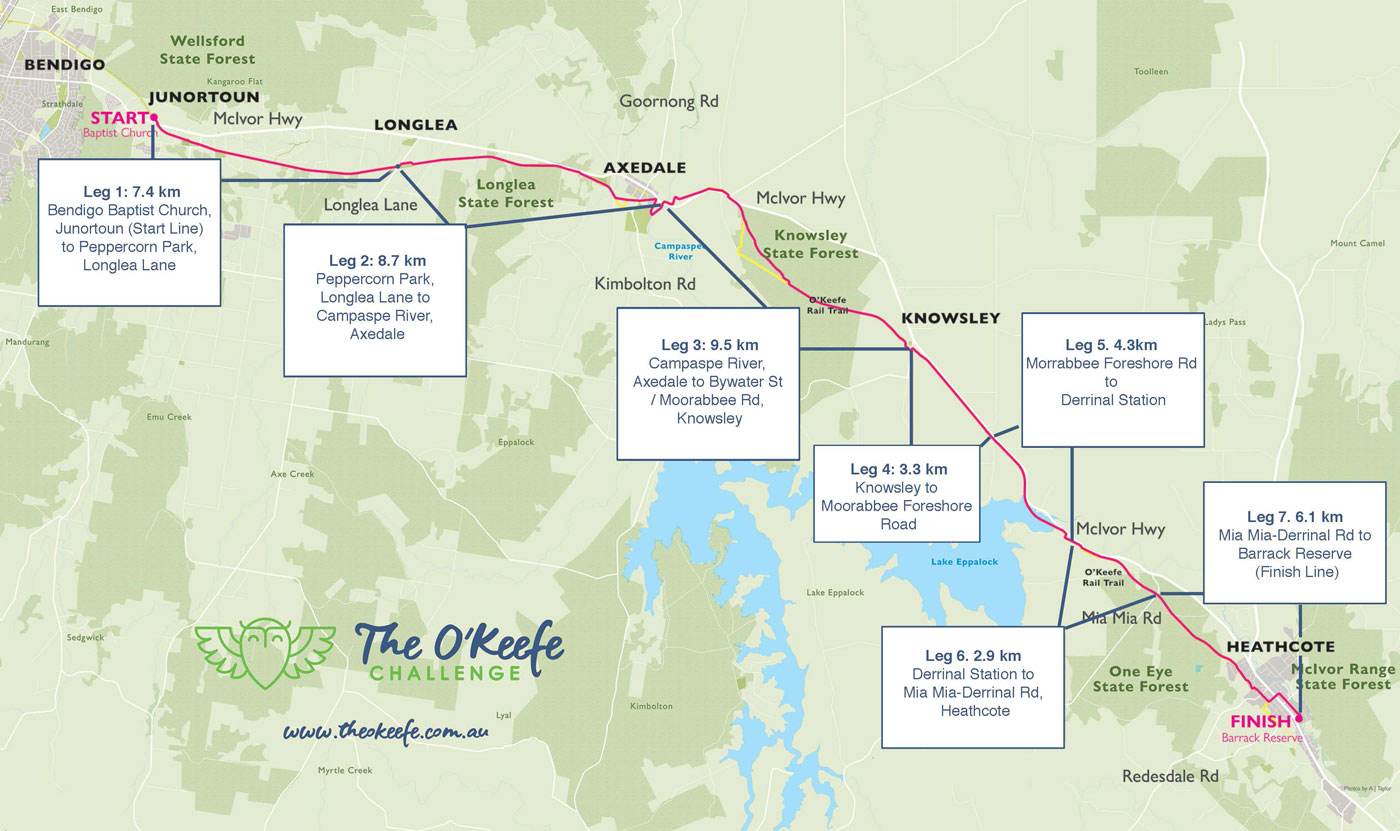 Cycling
The Light The Trail Ride, on Friday 29 April, is a night ride of about 24km, from Axedale to Heathcote. This is a fun family event, and children are encourage to join in with the supervision of an adult.
Riders as well as their bikes must be well lit up with bright lights to be allowed to ride. Prizes being given for: The Best Illuminated Outfit, Best Lit Bike, Encouragement award for the rider who shows the best Spirit of the O'Keefe Challenge.
Safety
The event will be run under strict covid safe conditions.
Victorian State Government regulations currently require that ALL event attendees must be fully vaccinated against COVID-19, be under 16 or have a valid medical exemption. Please note that this is a Victorian State Government condition for the event to be held at this time. Volunteers will be checking vaccination certificates upon arrival on event day.
Please note: I have received no payment for this post. Everything written here is my opinion, about a local event and a rail trail that I'm passionate about. 
For more information: theokeefe.com.au
This post is linked Natalie's Weekend Coffee Share
and Denyse's monthly linkup  #lifethismonth
©2022 copyright. All rights reserved nextphaseinfitness.com.au