I've been following Sue's 7 Day Eat Healthy for Life  challenge at her blog Sizzling Towards Sixty. This program is just a short reboot to kick off healthy eating habits for life. Most importantly, this is not a diet. Rather, it is a short one week plan to kick start healthy habits for life.
Day 5
The topic on day 5 was hydration. I didn't expect to learn much from this video as I'm an advocate for keeping hydrated and do realise that most people don't drink enough water in a single day. I usually drink about two litres but after hearing Sue's guest Peta, Strong Healthy Women talk on the subject, I have decided that I need to drink more. Peta gave hints on how to ensure you drink extra water, with ideas of how to fit it into your day. For example drink before breakfast. I usually do drink about 600ml before breakfast, but I've usually been in the gym, so I should be drinking about 1 litre before breakfast. I'm taking on this challenge to increase my water consumption, particularly with winter coming on, when drinking water sometimes gets overlooked.
Day 6
Day 6 focused on portion sizes and facts about salt and sugar. Wendy, from Wendy's Way to Health was a guest again, and I really enjoyed her comments. Wendy gave tips on easy ways to work out your portions, other than calorie counting or constantly weighing food. I'm fairly sure that I have portion sizes under control. Well, I did before corona virus struck us. My portions are a bit out of control since being in isolation, so I plan to start taking more notice of what's on my plate, instead of being on auto pilot, while eating.
Day 7
On Day 7, Sue had her two guests from previous days, to help recap the week.
I've really enjoyed listening to these videos each day for a week. Healthy food is a subject that I'm very interested in, and even though I tell myself that I am fairly knowledgeable on the subject, there have been tips during the week, that I'm going to use.
I'm going to try to be especially mindful of these tips, as I incorporate them into my lifestyle, while at home in isolation.
 I need to increase my water levels from 2 litres to 3 litres per day
 Remind myself that I'm not on a diet. I am eating healthy for life so there is no need to deprive myself.
 Don't aim for perfection as that's not living a normal healthy life and causes stress and can cause binge eating
 Add extra greens and white flesh fish into my diet
Choose healthier snacks.
 During the week, there were many tips given by Sue and her guests. There were a few new tips and many tips that I was aware of, but I found it beneficial to hear them again. I was reminded of a few things that I've let get a bit slack and need to bring back again into my daily lifestyle.

Footnote: Watching Sue's videos everyday and listening in to the tips given, has reminded me of how much I love learning about nutrition. I do feel regretful that I didn't study nutrition when I was younger. I don't believe in living in the past and wallowing in regret, so from now on, I plan to do as much informal learning about nutrition as I can.  For no other reason than it's a subject that I enjoy. Thanks to Sue to awakening me to this topic that I haven't given a huge amount of thought to, for a few years, while I have been focused more on fitness.
Superfood Oatmeal Bars
I do struggle in choosing snacks. Most times I'm happy to choose fruit. But sometimes I just want something sweet with a coffee. Unfortunately, for me there is no such thing as one biscuit! One biscuit leads to two…..leads to …..etc.etc.   These Oatmeal Bars that I came across on Not Enough Cinnamon look fabulous and they're full of healthy goodness which would be very filling. I haven't tried them yet but will do over the next few days. Too many unhealthy snacks are being consumed in our house during these times of isolation, so it's time to bring in some healthy options. At 207 calories per bar, this is a good snack option, just as long as it's possible to stop at one. They do look yummy!
Because I'm committed to keeping to the copyright laws, I haven't included the recipe here but there is a link below to Not Enough Cinnamon Blog, where you will find the full recipe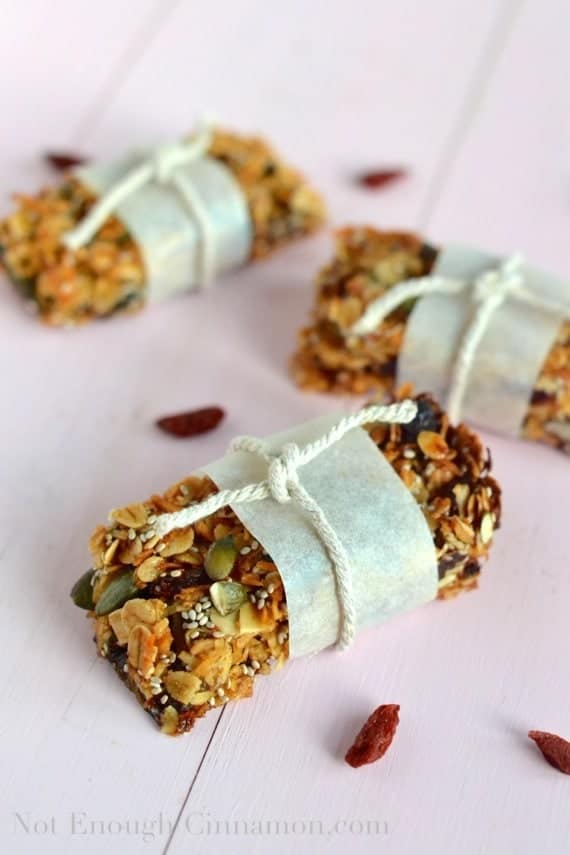 Superfood Oatmeal Bars {Gluten Free and Refined Sugar Free} – Not Enough Cinnamon
Eat Healthy for Life Challenge Day 1/7
Eat Healthy for Life Challenge Day 2/7
Eat Healthy for Life Days 3 & 4/7
Just in case you would like to check out my other blogs: Best Bookish Blog and Tracking Down The Family
@2020 copyright. All rights reserved nextphaseinfitness.com.au