What Does Fitness Mean To Me As I Age?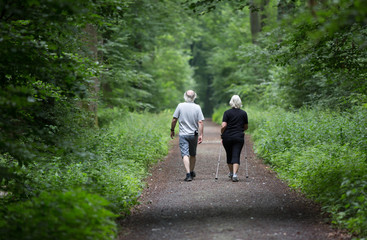 I turned 65 this year! As I write those words, I cannot believe that they are true. Where did all those years go? It only seems like such a short time ago, that I was turning 30, and thought life as I knew it was over. That was when I decided to get fit. I was overweight and really unfit at thirty, so I made the decision that I would have to change all my bad habits and create new healthy habits, if I was to be around to see my children grow up. That's how I saw it anyway. From then on my life revolved around fitness and health with exercise becoming a non-negotiable in my daily life.
Fast forward to 2019 and here I am, in my 65th year, fighting fit and healthy. I know that I'm not as fit as I was ten years ago, when  I was regularly competing in fun runs and most days, participating in group rides on my road bike. That was when I was at my fittest. But I realised a couple of years ago, that I really needed to slow down just a little. I was getting a few injuries, which, though not serious, where impacting on my life and my ability to exercise in the way that I wanted. Up until then I was rarely injured, so I knew something had to change. I refused to listen to those that said I was too old to exercise and should slow down. I don't believe at all that there is an age limit on exercise. I still do strength training in the gym most days. But these days, instead of the fun runs and fast bike rides, my cardio mainly consists of bushwalking, walking, swimming and riding on the rail trails. Occasionally, I take the road bike out, but at a much more modest pace these days. There is no way that I'd be able to keep up with my old cycling group these days. But I'm more than happy to take the bike out by myself with no pressure.
Training For Retirement
All of the activities in my fitness life still keep me healthy and fit and give my life purpose. Fitness now, as well as being fun and non negotiable to my lifestyle, is also my way of being able to keep working. I really do enjoy working and am not ready to retire yet. I am on my feet all day most days. I watch and listen to colleagues talking about their aches and pains, sore feet, knees, backs and tiredness. Many of these colleagues are decades younger than me. I can honestly say that after finishing a long day at work, which can sometimes mean ten hours on my feet, I feel no aches and pains at all. I can feel tired, but it's not the extreme tiredness I hear others complaining about. Usually a ten minute sit down with a cuppa after work is enough to make me feel rested enough to do whatever needs to be done. I put this down to my fitness and consistency with my fitness lifestyle. I'm sure also that I have inherited excellent genes for which I'm more than thankful.
When I was much younger, I participated in many of the Great Rides, which are cycling holidays of 7 – 10 days. My first of these holidays was in South Australia in the early 90s, where I had a wonderful week of cycling with my 15 year old daughter. Since then, I've done another 12 of these rides in NSW, Queensland, Tasmania and of course, in Victoria. I hesitate to call them cycling 'holidays' as they really are hard work, even though they are great fun. Riding between 50 and 120k every day for ten days is quite taxing. One thing that I can remember since the very first of these rides, and which I found to be common to all of them is the number of fit, elderly people who were always there participating. I remember when I was much younger, thinking that those people were who I wanted to be when I was 'old'. As a 35 year old at the time, it seemed to me to be amazing that people in their 70s and 80s would be able to compete in these events. But speaking to them when out on the ride, I came to realise that they were passionate about staying fit. They did the training and enjoyed the rewards of that training on their well earned cycling holiday.
Now that I'm in my 60s, I am very near to being those people who I admired. Even though I'm not planning to retire quite yet, I consider that I am 'training for my retirement'. I want to be like those over 80s that I've been watching for the past thirty years. They are fit, strong, happy and have a zest for life that belies their years. That's who I want to be when I'm in my 80s. That is what I train for. That, and the daily benefits of a healthy and fit lifestyle.
For anyone reading this, who hasn't had experience of living a lifestyle of fitness, I would say don't be put off by those who have spent many decades exercising. It's never too late. Not ever! Make a commitment to your health, and then devise an honest plan that will assist you to keep to that commitment. Pick an activity that you enjoy and start off slowly and for a short period. The key to increasing fitness is consistency. If you are consistent, you will be surprised at how quickly your fitness levels increase.
Most importantly though, before you start any exercise program, check in with your doctor. He will give you the go-ahead to get started, and most likely will have tips for you that are relevant to your health situation.
Recently blogger friend Sue from Sizzling Towards 60 & Beyond invited me to contribute a guest post to her blog about What brings purpose and meaning to your life After 50. If you click on the preceeding link, you can read my post. I hope you enjoy it, and please do feel free to share it around your social media networks. While you're there, I invite you to check out Sues blog, for other posts on this subject and others, that are just as interesting.  Sue publishes many great articles on healthy ageing, keeping fit and living a healthy lifestyle.  I'm sure she would also love you to say hello in the comments section at the bottom of the article.