At this time seven years ago, I was in Spain, tackling the beginning of my Camino de Santiago Pilgrimmage walk. I have mentioned my Camino, here on the blog on numerous occasions, but I haven't really written in depth about it.
Over the past few days, I've been having dreams about it and have been pre-occupied with thinking about it. So I thought it about time, that I put a few thoughts down.
Why walk the Camino? The Camino gives the opportunity to step out of life for six weeks. All of that 'stuff', that takes up brain space in every day life, has no place on the Camino. The only things that really need to be thought of are what to eat and where to sleep.
Three Stages of the Camino
 Physical – Blisters, sore feet, sore knees, sore back, tired muscles
 Mental – Spending so many hours in your own head. The Meseta is the part of the Camino that is often accused of breaking the spirit of the keenest pilgrim.
 Renewal – Feeling refreshed and even like a new person on walking into the cathedral square at Santiago de Compostela
Bits n pieces to sort
After walking the Camino for over six weeks, I felt nourished in both mentally and physically. I had never in my life spent so much time on me. At first I felt guilty and then realised I needed this time to re-nourish my soul. Why? Divorcve, family problems, cafe. Didn't want to talk to anyone just wanted to live inside my own head.
When I started the Camino, I really didn't know who I was. I had just turned 60 and really, had lived a fantastic life up until a few years before that birthday. I had been married for 33 years and was now divorced. I had been the mother of three children. I was still the mother of three children, but my middle child had passed away suddenly. I was a cafe owner. Me? own a cafe? surely not. I told myself that my Camino was only about fitness and the celebrating what I thought at the time was a huge milestone birthday. However, very quickly after starting to walk, I discovered that this Camino was actually about discovering myself and who I actually was, now that so much about my world had changed. There were days that I cried all day as I walked.
Life was so busy when I left for the Camino. I was running a busy cafe with all that comes with that – working all day in the cafe, completing the book work at night, dealing with staffing issues. My head was noisy every moment with all that was going on. I couldn't believe the silence on the Camino and I didn't want anyone to interrupt that silence.
I was always a wife and mother. My kids now grown, and my husband has left me. I now didn't know who I was. Coming to grips with my grief, I've always felt I have to push my own grief down deep inside me so others don't get upset. The new move to Bendigo knowing nobody. When Craig died, I threw myself into cycling. when I moved to Bendigo, I threw myself into cycling.
People who have walked the Camino talk about their Camino family. Most people join up with a group of friends who they consider to be their Camino family. They share their deepest thoughts with each other, far more quickly than in ordinary life. Camino families usually keep contact long after their pilgrimage walk is over. I feel a bit sad now, looking back, that I had no interest at all in connection. I realised after my Camino was over that  what I had needed to do as I walked in solace, was to connect with myself again.
The Camino gives the opportunity to reflect on life at home .
My Realisations
I realised I had feelings of guilt over my husband leaving me for someone else, who actually was a friend. Perhaps things would have been different if I had been a better wife, a better mother, and on and on it went. There were feelings of guilt over the family problems. Did I contribute to them? Or worse still, did I cause them?  I even had huge feelings of guilt that the life I was living now since my divorce, and in a new town, was amazing. I felt so guilty about that.
Have you heard the saying that you have to have breakdown before there can be a breakthrough. There was a day that I cried for the entire day. I cried and sobbed and cried and sobbed, and was past exhausted at the end of the day. The next day when setting off, I had a lightbulb moment. I hadn't caused any of the 'stuff' that had happened. To realise that was to suddenly lose a huge load that I had been carrying around for years.
I found my peace on the Camino.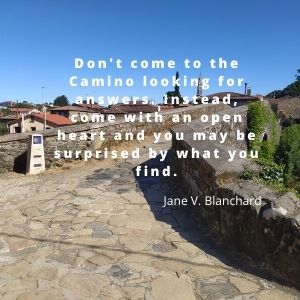 Images: Pixabay
©2021 copyright. All rights reserved nextphaseinfitness.com.au